World Cup Qatar 2022
On November 20, the 2022 FIFA World Cup kicks off in Qatar. It will last until December 18 and will be the first world championship in the history of the Middle East. At the opening, the Qatar team will play with the team of Ecuador. The organizers believe that up to 1 million people will come to Qatar for the World Cup matches, and 3-4 billion spectators will watch the competition. Especially for the guests of the World Cup, the Qatari authorities have facilitated the conditions for entering the country and the rules for vaccination. In addition, the rules of conduct in this Muslim country have been relaxed for tourists. So, in the fan zone they even allowed the sale of alcohol.
Qatar won the right to host the World Football Championship in December 2010 at the FIFA Executive Committee in Zurich. During the draw, Russia was chosen to host the 2018 World Cup, and Qatar – the 2022 World Cup. Thus, the country received a record 12 years to prepare for the World Cup. In total, five countries claimed to host the 2022 World Cup: Qatar, Australia, the United States, South Korea and Japan. The winner was determined only after four rounds, and the Qatari application invariably gained more votes. In the last round, the United States lost four votes to Qatar. During preparations in Doha, the Russian experience of the organization was taken into account (and the head of FIFA, Gianni Infantino, called the Russian World Cup "the best championship in history"). In Qatar, the tournament spent 20 times more than Russia – $ 200 billion.
The official mascot of the World Cup is a scarf named La'ib.

According to a video published on the YouTube channel of the organizing committee of the championship, a new mascot was chosen by an expert commission consisting of the lion Willy (1966 World Cup), jalapeno Pique (1986 World Cup) and the famous octopus Paul. The mascot of the tournament in Qatar will be La'ib: a magical gutra scarf (traditional Arab headdress) that can open portals to parallel worlds.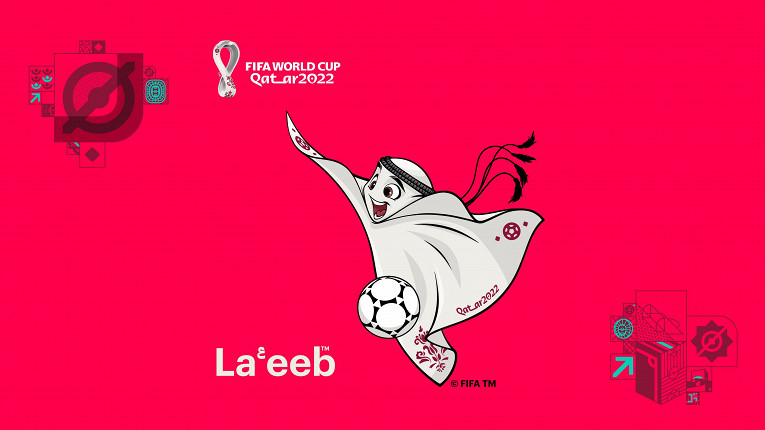 Football Championship in Qatar: unusual facts
the first FIFA World Cup, which takes place in autumn and winter;
the first World Cup in which Qatar takes part;
the first World Cup in the Middle East;
the record prize fund of the 2022 World Cup – $ 440 million;
a record number of rumors and scandals;
For the first time in history, matches will be officiated by female referees. These are Stephanie Frappart from France, Yoshimi Yamashita from Japan and Salima Mukansanga from Rwanda;
the last World Cup in which 32 teams will play (from 2026 there will be 48).
The group stage games of the World Cup will be held from November 21 to December 2, the match for third place is scheduled for December 17, and the final will be held on December 18.
Group stage
November 20, Sunday
Group A. Qatar – Ecuador – 19:00
November 21, Monday
Group B. England – Iran – 16:00
Group A. Senegal – Netherlands – 19:00
Group B. USA – Wales – 22:00
November 22, Tuesday
Group C. Argentina – Saudi Arabia – 13:00
Group D. Denmark – Tunisia – 16:00
Group C. Mexico – Poland – 19:00
Group D. France – Australia – 22:00
November 23, Wednesday
Group F. Morocco – Croatia – 13:00
Group E. Germany – Japan – 16:00
Group E. Spain – Costa Rica – 19:00
Group F. Belgium – Canada – 22:00
November 24, Thursday
Group G. Switzerland – Cameroon – 13:00
Group H. Uruguay – South Korea – 16:00
Group H. Portugal – Ghana – 19:00
Group G. Brazil – Serbia – 22:00
November 25, Friday
Group B. Wales – Iran – 13:00
Group A. Qatar – Senegal – 16:00
Group A. Netherlands – Ecuador – 19:00
Group B. England – USA – 22:00
November 26, Saturday
Group D. Tunisia – Australia – 13:00
Group C. Poland – Saudi Arabia – 16:00
Group D. France – Denmark – 19:00
Group C. Argentina – Mexico – 22:00
November 27, Sunday
Group E. Japan – Costa Rica – 13:00
Group F. Belgium – Morocco – 16:00
Group F. Croatia – Canada – 19:00
Group E. Spain – Germany – 22:00
November 28, Monday
Group G. Cameroon – Serbia – 13:00
Group H. South Korea – Ghana – 16:00
Group G. Brazil – Switzerland – 19:00
Group H. Portugal – Uruguay – 22:00
November 29, Tuesday
Group A. Ecuador – Senegal – 18:00
Group A. Netherlands – Qatar – 18:00
Group B. Iran – USA – 22:00
Group B. Wales – England – 22:00
November 30, Wednesday
Group D. Australia – Denmark – 18:00
Group D. Tunisia – France – 18:00
Group C. Saudi Arabia – Mexico – 22:00
Group C. Poland – Argentina – 22:00
December 1, Thursday
Group F. Canada – Morocco – 18:00
Group F. Croatia – Belgium – 18:00
Group E. Costa Rica – Germany – 22:00
Group E. Japan – Spain – 22:00
December 2, Friday
Group H. Ghana – Uruguay – 18:00
Group H. South Korea – Portugal – 18:00
Group G. Serbia – Switzerland – 22:00
Group G. Cameroon – Brazil −— 22:00
1/8 finals
December 3–6
1/4 finals
December 9–10
1/2 finals
December 13–14
Third place match
December 17
The final
December 18
sources of information sport.rambler.ru, sports.ru, iz.ru